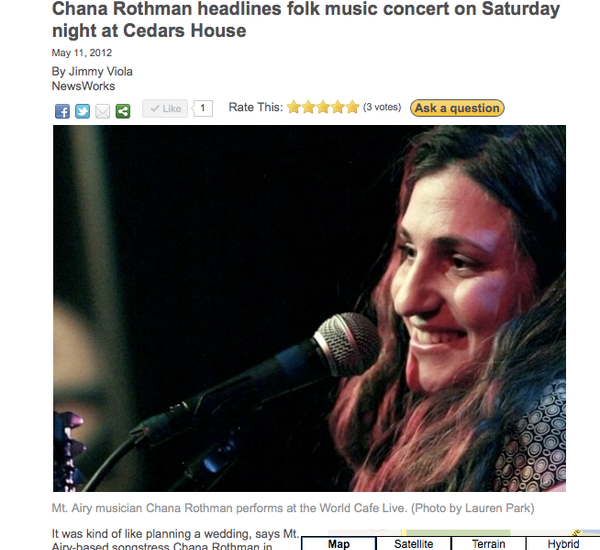 Rothman says she got the idea for an event with a multifunctional space that can accommodate families with children. The rustic Cedars House fits nicely for with a wooden interior, along with decks and plenty of space outside. The venue is a health good café that offers arts and fitness classes along with massages, and is a prime stop for runners and cyclists passing through Wissahickon Valley Park near Northwestern Avenue.

"I love the woods and I'm also urban coffee shop place," Rothman says. "It is the kind of show that an older kid could come to…it's going to be a mellow night in the park."
It was kind of like planning a wedding, says Mt. Airy-based songstress Chana Rothman in regards to Saturday night's "Sonic Spa" concert at Cedars House in Wissahickon Valley Park, which includes performances from Rothman along with Toronto's Jory Nash and Shawn Taylor of Shelton, Connecticut.
The performance begins at 7:30 p.m. and features two 45-minute sets of music.
Rothman released her most recent album "Beautiful Land"- a colorful assortment of mostly upbeat acoustic guitar-driven numbers – last December, and she has immersed herself in the arts, music and community organizations in Mt. Airy by teaching music at the Germantown Jewish Centre and Mount. Airy Home School Co-Op.
Rothman says her involvement with Mt. Airy has helped her remain visible and gain followers, while she focuses on raising two young children instead of performing frequently.
"It's not so much about music or accomplishment as it is about connecting," Rothman says. "Really investing in your neighborhood is rewarding. I think people really appreciate that because it's more authentic."
Rothman, a Toronto native, will be joined by her country mate Jory Nash, a songwriter and multi-instrumentalist who tours the United States and Canada playing a mix of folk, American roots and storytelling.
Nash plays guitar, piano and banjo on stage, and cites Artie Guthrie as one of his favorite artists. But he's also known to spin five-minute stories about his strange encounters on the road of life, like an arduous and protracted audition to star in a beer commercial that he ultimately was passed up on.
"The stories can be a change of pace, so I've learned how to use them in a way that becomes more interesting," Nash says.
Connecticut-based songwriter Shawn Taylor rounds out the concert. Taylor has hiked through the Appalachian Trial a few times over, and his gruff voice rings of Americana when he croons lyrics like "take my liver but not my wine."
While he is often compared to Bruce Springsteen, Taylor says he considers a Bob Dylan a bigger influence.
"Maybe it's the difficult parts in life that are inspiration of my songs, the trials and tribulations," Taylor says.
Saturday's concert begins at 7:30. Tickets are $12. Visit The Cedars House for more information.