Kathy O'Connell of Kids Corner Reviews Rainbow Train! 
"Rainbow Train" is a true labor of love for creator Chana Rothman. The project grew from her own thoughts about gender identity and her own life with her children. She heard many stories from parents and teachers about kids who don't fit into traditional gender roles. Clearly, there was a need for a resource to help families navigate their way through gender freedom. Her love of music and way of expressing herself will make you love this album that takes a new look at gender roles. Trans kids know who they are at a pretty early age even if they don't have the words to express it. This CD gives them and the people who love them a way to express gender identity in an accessible and entertaining form. "Shine Like the Sun" makes a joyfully sensible suggestion that "if you're not hurting anyone," you can be whatever you dream of being: artist, princess, anything. "A Better Way" invokes historical heroes to make its title's point. As someone who sat in a class with what felt like 47 other Kathys, "Everybody Gets to Choose Their Own Name" struck a chord. "Dress Up and Dance" and "Gender Blender" get the whole family dancing. The musical excellence of this CD delivers its message of freedom brilliantly.
- Kathy O'Connell, WXPN Philadelphia, Kids Corner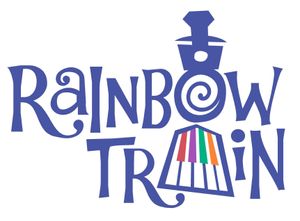 What is Rainbow Train?

Rainbow Train gives voice to a growing international movement towards freedom of gender expression, aimed at children ages 4 - 9. Rainbow Train answers the questions: How do we help our children feel free to express themselves, body mind and spirit? What is the soundtrack for theories of "anti-bullying" and "gender liberation"? Its first answer is a CD filled with songs inspired by Free To Be You and Me, with an edgy, updated lens for the next generation. Songs feature folk, ballad, hip hop, disco, pop, spoken word, rock, Latin jazz, and children's voices in dialogue. Producer Bill Moriarty and singer/songwriter Chana Rothman have teamed up with an all-star cast of musicians and children to create a ground-breaking recording that celebrates a diversity of gender expressions, creates concrete ways we can choose positive, affirming messages over bullying, and challenges outdated rules to create a fresh, liberating, and dance-able compilation of music for social change. Rainbow Train envisions a world where each child is free of the expectations and pressures that come with gender constraints and stereotypes. Each of us can be a gender hero, and each of us is invited to hop on board the Rainbow Train, where together we are simultaneously creating and traveling to a better world. 
Chana Rothman is an award-winning music educator, singer/songwriter, and mom to 2 children (1 and 4 years old). Born in Toronto, formerly based in Brooklyn, she now lives/works in Philadelphia and her music is played and sung in communities around the world. Chana's most recent project, Rainbow Train, is born of her experience as a family musician and music educator - seeing a need for music that celebrates healthy gender expression both for her own kids and family and for all kids and all families. 
www.chanarothman.com
.
Rainbow Train Release Party! photos by Andrea Nunez. These are just a few photos - more to come!
Share photo gallery
Gallery: The Making of Rainbow Train
ABOUT THESE PHOTOS
All tracks except "Baby Welcome Song" were recorded at
Kawari Sound
in Wyncote, PA. What a beautiful place (as you can see) with such good vibes. I have to say a word about Bill Moriarty (also produced albums for The Lawsuits, Dr Dog, Man Man): he was an absolute dream. This project had so many parts and he managed them with grace and humor. He is also an excellent producer, beloved and respected in the Philly music scene and beyond. It has been a true honor to work with him, and I think you'll appreciate all his efforts when you hear Rainbow Train. I know I do!
THE CORE TEAM
Producer/Engineer - 
Bill Moriarty
Bass - Sarah Carlisle
Ukulele & Acoustic, electric, and nylon string guitar - Stuart Fuchs
Drums & Percussion - Francois Zayas
Lead Vocals - Chana Rothman (yours truly). I also played xylophone and wrote all songs except those which I co-wrote with amazing talents who are listed in the credits. 
MAJORLY VALUABLE PLAYERS
Mya Byrne
- lead vocals and mandolin on "Name" - which Mya wrote as well!
Ali Wadsworth
- lead vocals on "Dress Up and Dance," backing vocals on practically everything else. 
mighty FlipSide Esq. - rap on "Dress Up and Dance" - which he wrote!
Avi Wisnia
- vocals and wurlitzer on "A Better Way" - which he co-wrote! - and melodica on Rainbow Train
Marc Adler - flute on "My Body" 
Jasa Li - piano on "Baby Welcome Song"
Andrew Senn
- organ on "holy"
Kids in Dialogue: Hadassah Weinmartin (age 9), Hannah Shaw (age 7), Ariel Berson (age 4), Eliyashu Ben Mosche (age 6) sharing their ideas on "Gender Blender"
Mikael Elsila - co-wrote the song "Butterflies"!
RAINBOW TRAIN - THE STORY
The idea started when I was looking for a song to teach my child's preschool class, all about how kids can wear whatever they want. Boys can wear dresses, why not? And I realized that no such song existed. Well, then - my first grant-able idea! From idea to Facebook conversations to grant applications, this has been the realization of a deep-seated vision. I will be writing more on this soon. 
WITH THANKS TO...
I am deeply grateful for the support of two organizations who provided funding for the recording of Rainbow Train: 
Leeway Foundation
 - Art and Change grant
Tribe 12 Fellowship
, a program helping Jewish young professionals launch their ventures.
Without the support of these organizations, I would not have been able to record the album. I am especially grateful to Danielle Selber of Tribe 12 who believed in me and my project from the beginning.  
Upcoming Rainbow Train Events
RIGHT NOW: 
Rainbow Train is available for purchase on CD baby!
 www.cdbaby.com/cd/rainbowtrain!
June 4-7
 - Rainbow Train co-sponsors the Kids' Camp at the Philadelphia Trans Health Conference 
Past Rainbow Train Events
March 20 (Friday) 8:30-10 AM - presenting at Delaware Valley Association for the Education of Young Children (DVAEYC)

This is the premiere event for the early education community in the Delaware Valley. It brings together over 1500 early educators, presenters, exhibitors, and public officials for two days of idea-sharing and discussion of the importance of PLAY.

Late March - Kickstarter Campaign!
April 26 (Sunday) 10-11:30 AM - presenting songs of diversity at Germantown Jewish Center for families. Details TBA
May 14-21 - Chana is music educator in residence at Foundation for Jewish Camp's Cornerstone Program, a professional development program for summer camp counselors. Rainbow Train curriculum will be presented in a training as well as other diversity work through music.
Mid-May - Release Rainbow Train animated video
Late May - Launch youtube channel. Release Dress Up and Dance video.
Rainbow Train CD Release Party!
May 3 2:30-4:35 PM - Philadelphia CD release @ William Way LGBT Community Center!

Activities start at 2:30
Concert starts at 3:00

May 5 - national and international digital release date!
RSVP via Facebook here & follow Rainbow Train Music on Facebook for more details.